Armstrong Economics Blog/Economics Re-Posted Oct 14, 2021 by Martin Armstrong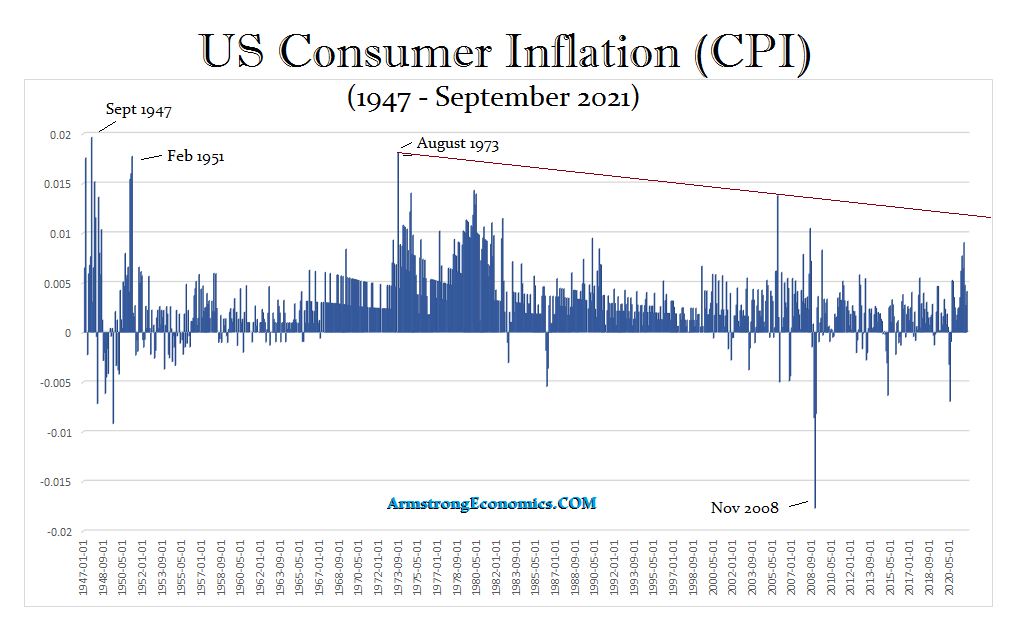 Inflation continued to surge, reaching 5.4% in September. Janet Yellen has never been right about anything and keeps calling this "transitory," as if it will vanish in a few weeks. The Labor Department's Consumer Price Index, which is supposed to measure a basket of goods and services as well as energy and food costs, came in at 5.4% in September from a year earlier, well beyond expectations. However, our model was projecting a rise in inflation into 2021 which is 13 years up from the November 2008 low. It is interesting how the COVID restrictions with lockdowns came in on target with our computer's forecast. Curious how events seem to fulfill the forecast when it is done by a computer rather than human judgment.
Nevertheless, as you can see from the chart, inflation has bounced on a month/month basis, but it has not yet reached the Downtrend Line. The long-term forecast beyond a mere decade projects the historical high will be due in 2034, which should exceed all previous highs. A month/month number above 1.05% will signal that inflation is breaking out, and we will indeed make all-time record highs going into 2034.