Armstrong Economics Blog/Corruption Re-Posted Apr 24, 2023 by Martin Armstrong
Biden's camp completely interfered in the 2020 US Presidential Election by hiding Hunter's illegal business dealing through bribes and coercion. The House Judiciary Committee released a letter addressed to Secretary of State Anthony Blinken that revealed Biden and Blinken deliberately created the story that Hunter's "laptop from hell" was "Russian disinformation" in order to help him steal the election.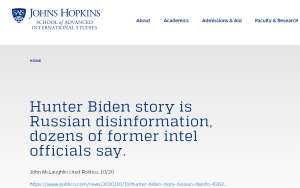 When will the people say that they have had enough? How could they arrest a former president for an affair when the current president and his crime family have actively engaged in countless international criminal activities. CIA director Mike Morell ADMITTED that 51 members of the intelligence community signed a letter declaring the laptop was "Russian disinformation" act the request of the Biden Administration. This propaganda spread to reporters of prominent newspapers, social media platforms, and government officials across the US. The FBI completely dropped their investigation after the laptop was handed over to them and wiped clean from the internet.
The Biden Administration reached out to The Post after they received information that Hunter introduced his dad to his Ukrainian business partners. Morrell said he did it to "help Vice President Biden … because I wanted him to win the election."
Joe Biden referenced this signed letter during a debate against Trump on October 22, lying to the American public weeks before the election. Joe insisted he never spoke to Hunter about his business dealings when he was in on it the whole time.
Judiciary Chairman Jim Jordan (R-Ohio) and Rep. Michael Turner (R-Ohio), chairman of the Permanent Select Committee on Intelligence sent a letter to Blinken letting him know that the investigation is back on.
"We are examining the origins of the infamous public statement signed by 51 former intelligence officials that falsely discredited a New York Post story regarding Hunter Biden's laptop as supposed Russian disinformation.

Subsequent reporting revealed that the New York Post story was not, as the public statement claimed and then-Vice President Biden parroted, part of a 'Russian information operation.'

This revelation nearly two years after the fact, however, was little consolation.

The concerted efforts to dismiss the serious allegations in the Post's reporting and to suppress any discussion of the story played a substantial role in the 2020 election."
Joe Biden is a liar who will go down in history as the worst president in American history. He deceived the American people countless times and has done everything in his power to ruin our economy, values, and way of life. Arrest all 51 people who signed that letter and throw everyone related to the Biden crime family in jail – let us see how far the corruption goes.