Armstrong Economics Blog/Politics Re-Posted May 19, 2023 by Martin Armstrong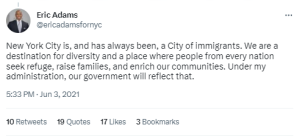 NYC Mayor Eric Adams is at a breaking point over the migrant crisis. He was in favor of the open border until buses filled with migrants, mostly military-aged men, began swarming his city. Adams was a fierce proponent of "sanctuary cities" and said all were welcome. Adams is out of options, and it has only been one week since Title 42 was revoked. He repeatedly stated that his buddies in Washington have failed to take his calls. What will NYC do with all its new residents?
Half of all hotels in the city have been cleared out to make room for illegal migrants. They are provided with shelter, food, a phone, and some funds despite breaking US law by illegally entering our country. "New York City is the hotel capital. We're the hotel capital — tourism, visitors, sporting events, graduations," Adams continued. "It's a major economic engine for us. Almost 50% of those hotel rooms are being taken up by migrant asylum seekers." The summer tourist season is merely the tip of the iceberg.
School gymnasiums around NYC have also been emptied to make room for undocumented migrants and parents are in an uproar. Parents are not even permitted to enter a school in the US unless they show ID and check in with the front desk. Everyone who works with children must undergo a background check. Here, we have undocumented men from across the world entering our schools. Adams claims that the migrants will not be there at the same time as the children, but there is not enough enforcement to keep the kids safe. Forget weekend or after-school activities.
NYC already has a problem with homelessness. Homeless veterans are being displaced from their shelters to make room for migrants. So the men who fought for our country are being removed from their shelters to accommodate people breaking the law.
New York Gov. Kathy Hochul reached out to President Joe Biden to ask for federal assistance, as if money will solve this crisis. Biden and Harris have remained quiet on the subject. The White House is lying and claiming that border crossings are down. Every state is experiencing an influx of illegal, undocumented military-aged men from around the world. This may be a final straw for many middle-of-the-road Democrats. The US has been invaded from the southern border and no one knows what to do to address the problem.