Posted originally on the CTH on December 26, 2022 
The issues surrounding Jack's Magic Coffee Shop are still very opaque and seemingly clouded; however, there does seem to be some clarity surfacing in the bigger picture operation of the social media platform. Perhaps, just perhaps, we are starting to get a better understanding of how the public opinion control operation was being handled.
Readers here are very familiar with our researched suspicions of how this interconnected technology system, this weird public-private partnership was being conducted. For quite it has been obvious the various systems to control discussion would need connectivity.
Perhaps Twitter 2.0 is starting to recognize the industrial operation was evolved into a weird system of interconnected networks, necessitated by the larger government need. Whatever the outcome, the basic elements all seem to be aligning in the direction we discussed long ago and, if accurate, the ramifications should soon surface.
With that in mind and accepting that I genuinely do not want to be correct in this because the solution is even more troubling, perhaps it's worthwhile going back to the original metaphor and see if things continue to make sense.
April 2022 – The metaphorical Jack had a great idea, open a coffee shop where the beverages were free and use internal advertising as the income subsidy to operate the business. Crowds came for the free coffee, comfy couches, fellowship, conversation and enjoyment.
It didn't matter where Jack got the coffee, how he paid for it, or didn't, or what product advertising the customers would be exposed to while there. Few people thought about such things. Curiously, it didn't matter what size the crowd was; in the backroom of Jack's Coffee Shop they were able to generate massive amounts of never-ending free coffee at extreme scales.
Over time, using the justification of parking lot capacity and township regulations, not everyone would be able to park and enter. Guards were placed at the entrance to pre-screen customers. A debate began.
Alternative coffee shops opened around town. It was entirely possible to duplicate Jacks Coffee Shop, yet no one could duplicate the business model for the free coffee. Indeed, there was something very unique about Jack's Coffee Shop. Thus, some underlying suspicions were raised:
The only way Twitter, with 217 million users, could exist as a viable platform is if they had access to tech systems of incredible scale and performance, and those systems were essentially free or very cheap. The only entity that could possibly provide that level of capacity and scale is the United States Government – combined with a bottomless bank account. A public-private partnership.
If my hunch is correct, Elon Musk is poised to expose the well-kept secret that most social media platforms are operating on U.S. government tech infrastructure and indirect subsidy. Let that sink in.
The U.S. technology system, the assembled massive system of connected databases and server networks, is the operating infrastructure that offsets the cost of Twitter to run their own servers and database. The backbone of Twitter is the United States government.
FREE COFFEE:
♦ June 2013: […] "Cloud computing is one of the core components of the strategy to help the IC discover, access and share critical information in an era of seemingly infinite data." … "A test scenario described by GAO in its June 2013 bid protest opinion suggests the CIA sought to compare how the solutions presented by IBM and Amazon Web Services (AWS) could crunch massive data sets, commonly referred to as big data." … "Solutions had to provide a "hosting environment for applications which process vast amounts of information in parallel on large clusters (thousands of nodes) of commodity hardware" using a platform called MapReduce. Through MapReduce, clusters were provisioned for computation and segmentation. Test runs assumed clusters were large enough to process 100 terabytes of raw input data. AWS' solution received superior marks from CIA procurement officials"… (MORE)
♦ November 2013: […] "Twitter closed its first day of trading on Nov. 7, 2013, at $44.90 a share. In the years since then, it briefly traded above $70, but more recently, it has struggled."
Jack's free coffee shop has been for sale, but there's no viable business model in the private sector. No one has wanted to purchase Twitter – it is simply unsustainable; the data processing costs exceed the capacity of the platform to generate revenue – until now….
And suddenly, the people who work in the backroom of Jack's Magic Coffee Shop don't want Jack to sell.
Twitter is not making a decision to decline the generous offer by Elon Musk because of stewardship or fiduciary responsibility to shareholders. The financials of Twitter as a non-viable business model highlight the issue of money being irrelevant. Twitter does not and cannot make money. Growing Twitter only means growing an expense. Growing Twitter does not grow revenue enough to offset the increase in expense.
There is only one way for Twitter to exist as a viable entity, people are now starting to realize this.
What matters to the people behind Twitter, the people who are subsidizing the ability of Twitter to exist, is control over the global conversation.
Control of the conversation is priceless to the people who provide the backbone for Twitter.
Once people realize who is subsidizing Twitter, everything changes.
That's the fight. (more)
♦ 2021, Public-Private Partnership – The modern Fourth Branch of Government is only possible because of a Public-Private partnership with the intelligence apparatus. You do not have to take my word for it, the partnership is so brazen they have made public admissions.
The biggest names in Big Tech announced in June their partnership with the Five Eyes intelligence network, ultimately controlled by the NSA, to: (1) monitor all activity in their platforms; (2) identify extremist content; (3) look for expressions of Domestic Violent Extremism (DVE); and then, (4) put the content details into a database where the Five Eyes intelligence agencies (U.K., U.S., Australia, Canada, New Zealand) can access it.
Facebook, Twitter, Google and Microsoft are all partnering with the intelligence apparatus. It might be difficult to fathom how openly they admit this, but they do. Look at this sentence in the press release (emphasis mine):
[…] "The Group will use lists from intelligence-sharing group Five Eyes adding URLs and PDFs from more groups, including the Proud Boys, the Three Percenters and neo-Nazis."
Think about that sentence structure very carefully. They are "adding to" the preexisting list…. admitting the group (aka Big Tech) already have access to the the intelligence-sharing database… and also admitting there is a preexisting list created by the Five Eyes consortium.
Obviously, who and what is defined as "extremist content" will be determined by the Big Tech insiders themselves. This provides a gateway, another plausible deniability aspect, to cover the Intelligence Branch from any oversight.
When the Intelligence Branch within government wants to conduct surveillance and monitor American citizens, they run up against problems due to the Constitution of the United States. They get around those legal limitations by sub-contracting the intelligence gathering, the actual data-mining, and allowing outside parties (contractors) to have access to the central database.
The government cannot conduct electronic searches (4th amendment issue) without a warrant; however, private individuals can search and report back as long as they have access. What is being admitted is exactly that preexisting partnership. The difference is that Big Tech will flag the content from within their platforms, and now a secondary database filled with the extracted information will be provided openly for the Intelligence Branch to exploit.
The volume of metadata captured by the NSA has always been a problem because of the filters needed to make the targeting useful. There is a lot of noise in collecting all data that makes the parts you really want to identify more difficult to capture. This new admission puts a new massive filtration system in the metadata that circumvents any privacy protections for individuals.
Previously, the Intelligence Branch worked around the constitutional and unlawful search issue by using resources that were not in the United States. A domestic U.S. agency, working on behalf of the U.S. government, cannot listen on your calls without a warrant. However, if the U.S. agency sub-contracts to say a Canadian group, or foreign ally, the privacy invasion is no longer legally restricted by U.S. law.
What was announced in June 2021 is an alarming admission of a prior relationship along with open intent to define their domestic political opposition as extremists.
July 26, 2021, (Reuters) – A counterterrorism organization formed by some of the biggest U.S. tech companies including Facebook (FB.O) and Microsoft (MSFT.O) is significantly expanding the types of extremist content shared between firms in a key database, aiming to crack down on material from white supremacists and far-right militias, the group told Reuters.
Until now, the Global Internet Forum to Counter Terrorism's (GIFCT) database has focused on videos and images from terrorist groups on a United Nations list and so has largely consisted of content from Islamist extremist organizations such as Islamic State, al Qaeda and the Taliban.
Over the next few months, the group will add attacker manifestos – often shared by sympathizers after white supremacist violence – and other publications and links flagged by U.N. initiative Tech Against Terrorism. It will use lists from intelligence-sharing group Five Eyes, adding URLs and PDFs from more groups, including the Proud Boys, the Three Percenters and neo-Nazis.
The firms, which include Twitter (TWTR.N) and Alphabet Inc's (GOOGL.O) YouTube, share "hashes," unique numerical representations of original pieces of content that have been removed from their services. Other platforms use these to identify the same content on their own sites in order to review or remove it. (read more)
The influence of the Intelligence Branch now reaches into our lives, our personal lives. In the decades before 9/11/01 the intelligence apparatus intersected with government, influenced government, and undoubtedly controlled many institutions with it. The legislative oversight function was weak and growing weaker, but it still existed and could have been used to keep the IC in check. However, after the events of 9/11/01, the short-sighted legislative reactions opened the door to allow the surveillance state to weaponize.
After the Patriot Act was triggered, not coincidentally only six weeks after 9/11, a slow and dangerous fuse was lit that ends with the intelligence apparatus being granted a massive amount of power. The problem with assembled power is always what happens when a Machiavellian network takes control over that power and begins the process to weaponize the tools for their own malicious benefit. That is exactly what the installation of Barack Obama was all about.
The Obama network took pre-assembled intelligence weapons we should never have allowed to be created and turned those weapons into tools for his radical and fundamental change. The target was the essential fabric of our nation. Ultimately, this corrupt political process gave power to create the Fourth Branch of Government, the Intelligence Branch. From that perspective the fundamental change was successful.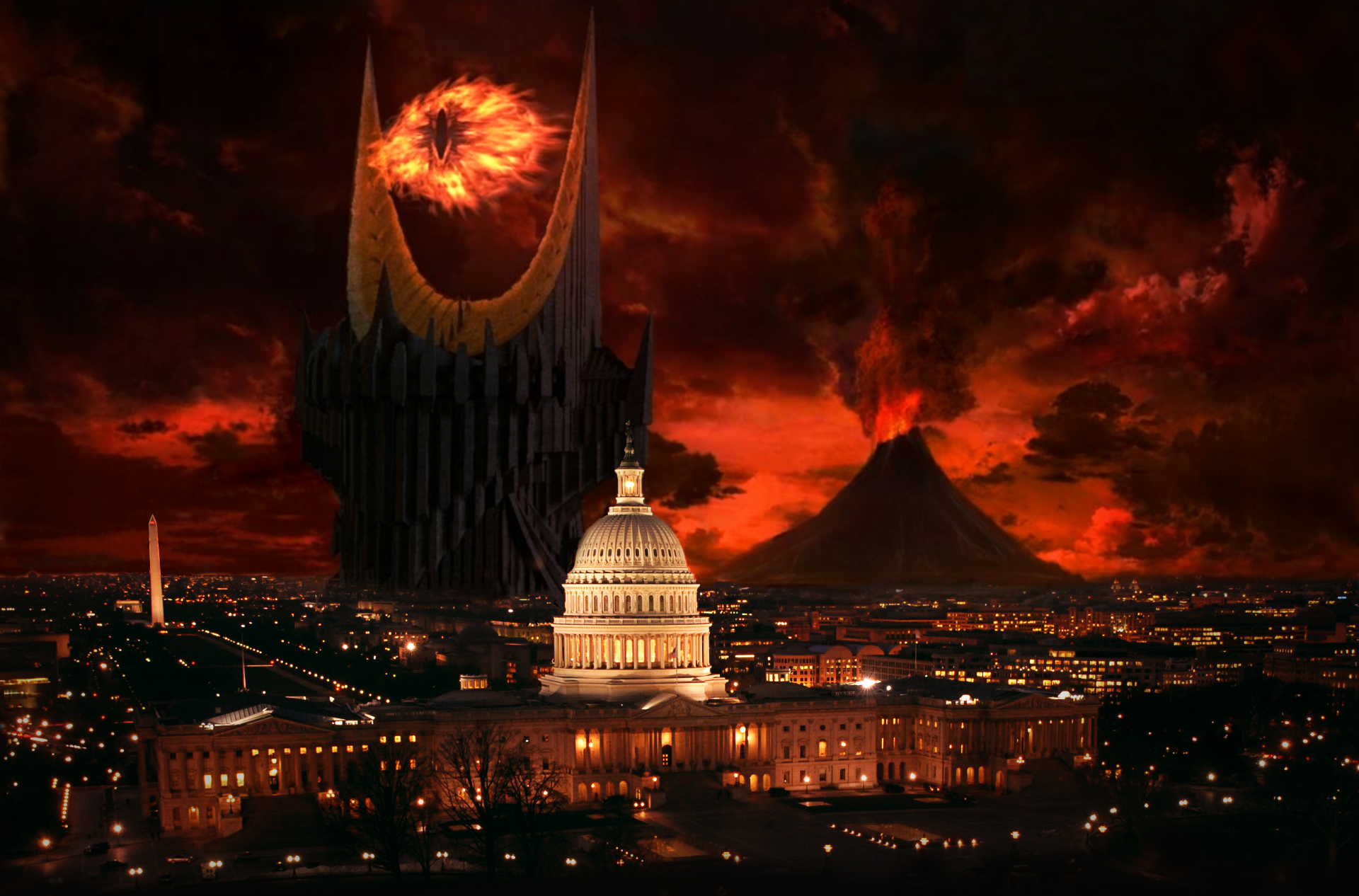 […] "The vision was first outlined in the Intelligence Community Information Technology Enterprise plan championed by Director of National Intelligence James Clapper and IC Chief Information Officer Al Tarasiuk almost three years ago." … "It is difficult to underestimate the cloud contract's importance. In a recent public appearance, CIA Chief Information Officer Douglas Wolfe called it "one of the most important technology procurements in recent history," with ramifications far outside the realm of technology." (READ MORE)
One job…. "take the preexisting system and retool it so the weapons of government only targeted one side of the political continuum."