Armstrong Economics Blog/World Events Re-Posted Apr 20, 2023 by Martin Armstrong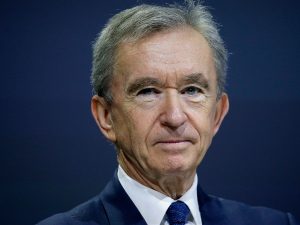 Bernard Arnault has unseated Elon Musk and Jeff Bezos to become the richest man in the world. The CEO and chairman of LVMH Moet Hennessy Louis Vuitton is estimated to be worth $235.7 billion. That is more than the entire GDP of some countries. Musk is now in second place with a net worth of $180 billion. To put it into perspective, Arnault has more money than Jeff Bezos And Mark Zuckerberg combined who are worth $127 billion and $81.4 billion, respectively.
LVMH stock has soared around 42% in the past year alone, and it rose by 17% YoY in Q1. The company's revenue reaches 79.18 billion euros in 2022, a 23% increase from 2021. This is another indicator that current economic conditions are not hurting the higher upper class as the rich have not slowed their spending on luxury goods amid this recession. LVMH owns numerous designer brands such as Louis Vuitton, Tiffany, TAG Heuer, Christian Dior, Celine, Moet & Chandon, Hennessy, and Sephora. Arnault personally owns 40% of LVMH and has a 90% stake in Christian Dior.
This perhaps makes Bernard Arnault the most powerful man in the world. Once you reach the billions, money ceases to be money and becomes a tool for power. It is not possible to spend that amount of money in one lifetime or even among numerous generations. Even if you are a millionaire, you are closer to being homeless than you are a billionaire. This is a very powerful position and we have seen countless billionaires attempt to alter society simply because they can. Arnault seems to keep a low profile compared to others in his bracket, but he possesses the power to change the world for better or worse on whim.