Armstrong Economics Blog/Politics Re-Posted Dec 7, 2021 by Martin Armstrong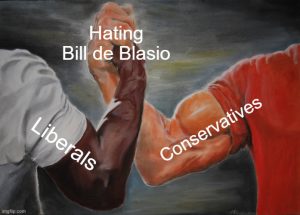 New York City Mayor Bill de Blasio has implemented the first statewide vaccine mandate for private employees. Referring to the move as a "pre-emptive strike," the new mandate will apply to around 184,000 businesses and will take full effect on December 27 and partial effect as soon as December 14 (proof of partial vaccination required). The rule applies to small children as well. Children ages 5 to 11 must receive the vaccine in order to enter dining, fitness, or entertainment establishments.
"A lot of parents want to take their kids out to wonderful things happening in the holiday season. Here's a reminder, get your child vaccinated. One dose will immediately qualify a child in any of those activities," de Blasio stated, shaming parents who will be unable to take their children to holiday-related events without the experimental vaccine. "We've got to put this covid era behind us. We've been living with this for most of two years. We've got to put it behind us, and vaccine mandates in my experience are the one thing that really breaks through," he said. "Vaccines every single time, there is a fear the vaccine won't have an impact on a new variant. Well, guess what? Every single time the vaccines have worked. That's a good track record. Let's lean into it even more," he lied. There are a plethora of breakthrough cases among the vaccinated. The vaccines do not work as intended. We read the news stories, we speak to our peers; the truth is out, and these politicians are blatantly lying to us in an attempt to grab more power and lobbying money.
Bill de Blasio is certainly doing all he can to destroy a once-great city during his last month of office. His successor, Eric Adams (D), who takes office on January 1, said he is on vacation and too busy to answer questions pertaining to a mandate that will affect millions of lives. Biden attempted to implement a federal mandate, and it is to be seen if the courts will allow it to pass. Hopefully, the courts will prevent this gross misuse of power. Although the media paints vaccine hesitancy as a right-wing issue, the fact of the matter is that people across the political spectrum do not want forced medical mandates. This issue could unite the people — "us v them" is not "the people v the people."