Armstrong Economics Blog/USA Current Events Re-Posted Apr 14, 2023 by Martin Armstrong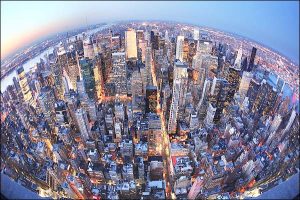 A new study found that 27% of New Yorkers plan to relocate out of state within the next five years. New York once represented the symbol of American prosperity and growth. People dreamed of living life in the "Big Apple" and America's international image was largely portrayed at the New York fairytale in films and books. Yet, New York no longer resembles what it once was.
The study said 70% of people are still happy to live there, but 30% wish they lived elsewhere. In addition to those who said they plan to leave within the next five years, 31% stated they plan to retire out of state. They did not poll respondents on taxes. Safety is one of the top concerns and the study shows that about half of respondents no longer feel safe in New York, with good cause. Two-thirds naturally said that the state is unaffordable.
"Democrats, those over 50, white residents and those 35-49 rate the state most highly while through the eyes of Republicans, independents, Blacks and those earning under $50K a year, the state receives the lowest grades," a researcher said. It is hard to imagine someone earning under $50K could comfortably live in New York. The true problem is crime and the light on crime lawmakers who let violent criminals roam freely after repeated offenses.
Felonies in the city of NY rose 20.4% in 2022 compared to 2021. "Things in a large city aren't supposed to grow that much or go down that much in one year," said Former NYPD supervisor Chris Hermann, now an assistant professor at Manhattan's John Jay College of Criminal Justice. "This is kind of like monumental kind of stuff," he stated, "like once in a lifetime." Rape cases increased by 17% in one year, grand theft rose by 25% (auto grand larceny by 32%), felony assaults increased by 15%, and burglary rose by 27%. NYC Mayor Eric Adams has failed at his job by emboldening criminals with relaxed laws.