Armstrong Economics Blog/Corruption Re-Posted Nov 30, 2021 by Martin Armstrong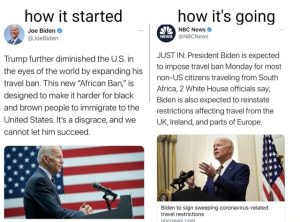 In 2020, when the pandemic began, Joe Biden accused then President Trump of being a racist xenophobe for implementing a travel ban on Africa. The mainstream media ran with the story, as it pushed the narrative that the right was inherently racist. Now, Joe Biden has implemented an "African ban," against South Africa and several other African nations. Nearly all stories reported by the media begin by stating "South Africa," not because the omicron variant was detected there, but because the public associates South Africa with having a large "white" population. The omicron variant has been detected in non-African nations, but the White House did not issue an immediate travel ban on those countries.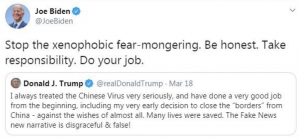 Biden accused Trump of xenophobic fear-mongering for implementing a travel ban on China. The term "China virus" was twisted by clever journalists to make it seem as if it were a racist term rather than simply the country where COVID originated. Once the "UK variant" came out, the media outlets had no qualms reporting on it using that terminology. They only transitioned the name to "delta" once they were called out for hypocrisy. Politics aims to divide the people. The narrative that one political party is inherently racist is a low tactic that supports biased voting efforts on the pretense of ethics. Take note of how the media and politicians are aiming to deceive you using rhetoric.