Armstrong Economics Blog/Disease Re-Posted May 18, 2023 by Martin Armstrong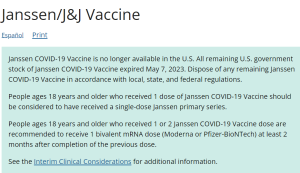 This should have made headlines across the world. The Centers for Disease Control and Prevention quietly told the US government to destroy all available Janssen/Johnson & Johnson COVID-19 vaccines. "Janssen COVID-19 Vaccine is no longer available in the U.S. All remaining U.S. government stock of Janssen COVID-19 Vaccine expired May 7, 2023. Dispose of any remaining Janssen COVID-19 Vaccine in accordance with local, state, and federal regulations. Dispose of any remaining Janssen COVID-19 Vaccine in accordance with local, state, and federal regulations," the site states. Over 19 million Americans received the Johnson & Johnson "safe and effective" vaccine. The 12.5 million doses in storage are to be immediately destroyed. The health agency did not state why they were pulling the vaccine.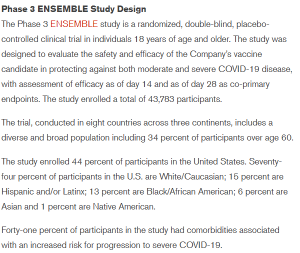 On February 27, 2021, Johnson & Johnson boasted that the FDA approved the first single-shot vaccine. However, the company admitted that 41% of those who participated in the vaccination study had comorbidities. The corrupt FDA still allowed it to be prescribed, knowing that almost half of the study participants had negative side effects. At the time of this writing, the Johnson & Johnson website makes no mention of the vaccine recall. They are focused on their positive Q1 earnings report, however.
The millions of people throughout the world who took this vaccine, by choice or by force, deserve to know the reason it has been recalled. In the US, the government offered the pharmaceutical companies full immunity so there will be no class-action lawsuit.
One can assume, based on the CDC's own guidance, that the single-dose vaccine increased side effects. The CDC states that test subjects must wait 8 weeks between the first and second mRNA jabs "as it might reduce the small risk of myocarditis and pericarditis associated with these COVID-19 vaccines." The site continues, "While absolute risk remains small, an elevated risk for myocarditis and pericarditis has been observed among mRNA COVID-19 vaccine recipients, particularly in males ages 12–39 years. Cases of myocarditis and pericarditis were identified in clinical trials of Novavax COVID-19 Vaccine and through passive surveillance during post-authorization use outside the United States." They also discuss the "small risk" of these deadly side effects in children aged 12 to 17.
The people should demand immediate answers. Answers would be required immediately if they were producing anything but the COVID-19 vaccination. Why did the FDA approve a vaccine that they knew to be dangerous? Will they recall other vaccines with increasing death tolls? We deserve clear answers.