Posted originally on the conservative tree house on August 25, 2022 | Sundance 
A solid dive by Law.Com and Daily Business Review into the background of who is financing Donald Trump versus who is financing Ron DeSantis should help to clarify the nature of the difference between them.
President Trump is funded primarily from massive amounts of small contributions from small donors, the MAGA base.
Governor Ron DeSantis is funded primarily by a small group of exclusive Wall Street corporations, billionaires and hedge fund managers, and almost no small donors.
Essentially, if you are thinking about MAGA populism -vs- corporate republicanism; well, there's the issue in easiest to understand data form.
Additionally, the new managers of DeSantis have recently noticed the vulnerability and hired firms to try and stimulate small donor amounts in an effort to avoid the jaw dropping difference in average donation. A strategy deployed by Jeb Bush in 2015. Pay attention to the names giving large donations to DeSantis and you will see: (a) where the economic policy distinction comes from; and (b) where the RDS branding and consulting image is coming from.
Business Daily Review – Republican Florida Gov. Ron DeSantis has raised more money than Donald Trump since the former president left office, relying on deep-pocketed donors rather than the small-dollar contributors he'll need if he seeks the White House in 2024.
DeSantis … has amassed $142 million from the start of 2021 through Aug. 5 this year from donors such as the hedge fund billionaires Ken Griffin and Paul Tudor Jones. That tops the $136 million Trump collected over a slightly shorter period.
Unlike Trump, who relies largely on a network of small-dollar donors to fund his postpresidential political operations, DeSantis has raised the bulk of his money from a small number of wealthy donors writing him giant checks. That gives him plenty of money for his reelection effort in Florida, where laws allow unlimited contributions.
But it also raises doubts about the level of grassroots support for DeSantis and suggests he'll have to widen his fundraising base for any presidential bid because federal rules limit direct contributions to candidates to just $2,900 per donor.
About 500 donors have given $50,000 or more to Friends of Ron DeSantis, his political action committee which under Florida law can accept donations in unlimited amounts, accounting for $88 million of his fundraising haul. His big donors come from finance and real estate, health care and construction and a wide range of other businesses, a Bloomberg analysis of Florida campaign finance filings shows.
By contrast, donors who made contributions of less than $200 accounted for $8 million, or just 6%, of his haul. Unlike Trump, who's raised $74 million or 54% of his total from January 2021 through June 30 from small-dollar donors, DeSantis doesn't send multiple, daily fundraising pitches to supporters. Recently his campaign went a month without sending a text message to potential donors who signed up to receive them.
His top 500 donors include 10 billionaires, including Citadel's Griffin, who moved his hedge fund's headquarters to Miami from Chicago 14 months after giving $5 million. Other contributors include Tudor Jones, the chief executive officer of Tudor Investment Corp., Home Depot Inc. co-founder Bernard Marcus and Thomas Peterffy, the chairman of Interactive Brokers Inc. (read more)
Ron DeSantis has done a great job in Florida, mostly on social impact issues. However, on a national policy level, specifically on a presidential level for 2024, the donor influence becomes troubling.
Issues around school choice, school boards, woke policy and social issues in general are easier to handle for voters at a local level. City, county and state representatives, and the elections they come from, are the people and places where voters can make a substantive difference in their own outcome.
As a parent or individual you have the ability to fight back against social and ideological issues at a city, county and state level. However, when it comes to issues of national economics, international trade policy and national energy policy, those battles happen at the federal level. That's where the President of the United States has a major influence.
As examples, the price of gasoline and energy are influenced by the president through regulatory policy. Similarly, international trade agreements, economic policy and monetary policy, have consequences for domestic investment, economic growth, jobs, employment, wage growth and expanded domestic wealth.
Simply put, the president has a strong impact on the nation, and the people within it, from an economic perspective.
All modern republicans are incapable of executing a policy that is pro-U.S. worker, because every modern republican is a beneficiary of Wall Street, hedge funds and multinational corporate contributions; exactly like those outlined for Ron DeSantis. As a consequence, economic policy adverse to the interests of Wall Street, Banks, hedge funds and multinational corporations do not come from modern republican politicians.
This dynamic reflects the distinction that made Donald Trump unique.
Unlike traditional republicans, Donald Trump and Bernie Sanders both agreed on the problem. Where they disagreed was the solution.
Donald Trump used domestic economic policy tools like trade tariffs and countervailing duties to change the corporate behavior of the multinationals. Bernie Sander's approach is to regulate the corporations and force a behavior change.
Put another way, Bernie wants to change the economic referees, while Trump's approach is to change the economic rules of the game and let the teams play it.
You might remember a large percentage of Bernie Sanders voters joined team Trump in 2016. That's because both teams agreed on the problem within our national economic situation. The result was MAGA, a massive coalition of working-class voters, based on economics, that cuts through every social distinction of race, color, sex, orientation, etc. The issue that binds the MAGA voters together is economic policy.
Florida Governor Ron DeSantis is a good governor for Florida, and he should be reelected easily. However, do not fool yourself into believing the massive coalition of MAGA voters would ever transfer to a corporate republican. It will not. EVER.
When people ask me who should come in after Trump, my answer is simple…. Show me the economic nationalist.
If there isn't another one,… well, what does that tell you about the Republican party?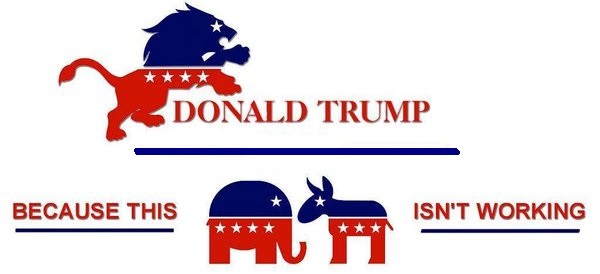 Last point. Florida republicans have a major blind spot they keep ignoring and DeSantis is very lucky Charlie Crist doesn't have the resources to exploit it.
Housing costs, rents and homeowners' insurance in Florida have skyrocketed. In some places home insurance has tripled just this year; yes, tripled. Energy costs also increased massively in Florida, in many areas electricity rates have doubled. Water utility costs in Florida have consistently been the highest in the nation due to the nature of the infrastructure and rapid expansion of the population. Additionally, property tax costs -even with homestead protections- are a serious issue for lots of voters.
Put those economic issues, all being ignored by the governor's office – as he campaigns around the country to raise his national profile, on top of high gasoline and food prices and DeSantis is very vulnerable on the way Floridians feel about their economic security.
Focusing on wokeism and social issues is an option when economic issues are not in crisis. However, focusing on social issues while ignoring the economic pain and crisis, and you find yourself looking detached. aloof and vulnerable to political attack….. Then again, a typical republican.
.