Posted originally on the conservative tree house on October 25, 2022 | Sundance
The New York Supreme Court has ordered reinstatement for all employees fired over their nonvaccinated status and ordered back pay for those who were unlawfully terminated from employment [Full pdf Ruling Here].
The state supreme court found that being vaccinated does not stop the spread of COVID-19, saying the vaccine mandate and firing of the non-compliant employees was "arbitrary and capricious." This is a strong rebuke to the totalitarian fiats created by state leaders including the state governor, mayor of New York City and health commissioner.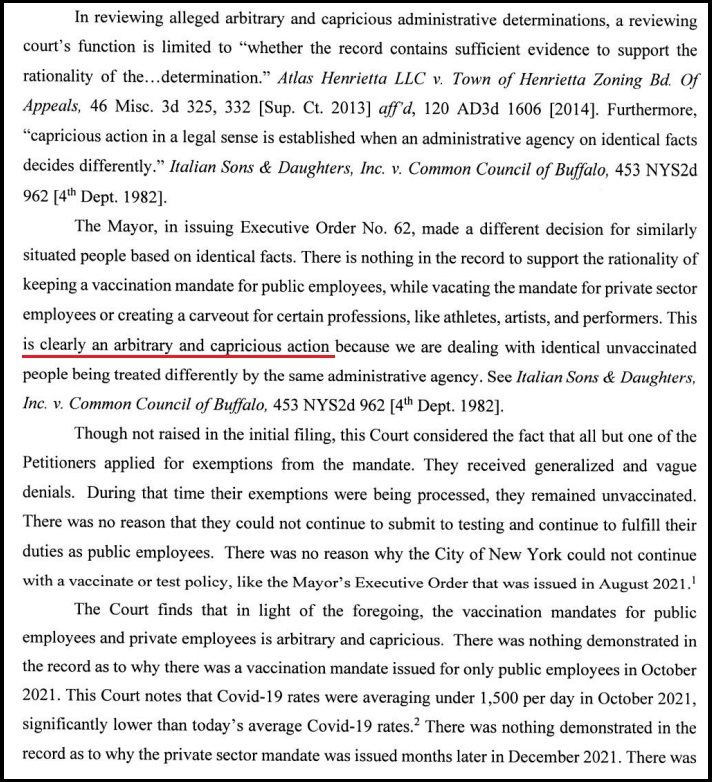 (SOURCE)
NEW YORK – The New York state Supreme Court has reinstated all employees who were fired for not being vaccinated, ordering back pay and saying their rights had been violated.
The court found Monday that "being vaccinated does not prevent an individual from contracting or transmitting COVID-19." New York City Mayor Eric Adams claimed earlier this year that his administration would not rehire employees who had been fired over their vaccination status.
NYC alone fired roughly 1,400 employees for being unvaccinated earlier this year after the city adopted a vaccine mandate under former Mayor Bill de Blasio. (read more)