Armstrong Economics Blog/Vaccine Re-Posted May 9, 2022 by Martin Armstrong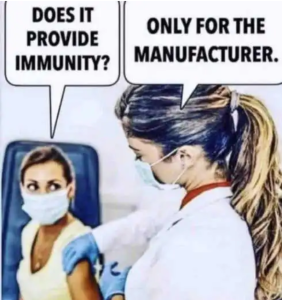 The FDA has finally admitted what we knew all along – the vaccine is not safe. The FDA said it is limiting the availability of Johnson & Johnson's COVID-19 vaccine as it does indeed cause blood clots. The agency also noted that the vaccine presents a risk of thrombosis with thrombocytopenia syndrome.
The health agencies are still pushing the vaccines from Moderna and Pfizer. How are they any different? The US government has a long history of punishing Johnson & Johnson for their illegal activities, from asbestos-laced baby powder to cancerogenic sunscreen. Yet, all pharmaceutical manufacturers are exempt from penalty for the COVID-19 vaccine, citing a national emergency.
FDA's vaccine chief Dr. Peter Marks said that the risk of death is still better than not getting the jab and said Johnson & Johnson's version may be used as a last resort. Johnson & Johnson was hoping to rake in $3.5 billion this year from the vaccine alone. All of this comes down to money and control. The government and businesses forced mandates with complete disregard for public health. The talking heads gaslit the world for years into believing anyone who questioned the vaccine was a conspiracy theory lunatic, unfit for society.
They have known the truth all along. The Johnson & Johnson vaccine came into question in April 2021. Here is Fauci maintaining that the Johnson & Johnson vaccine was "safe and effective" despite knowing it could be deadly: