Armstrong Economics Blog/Civil Unrest Re-Posted Jul 3, 2021 by Martin Armstrong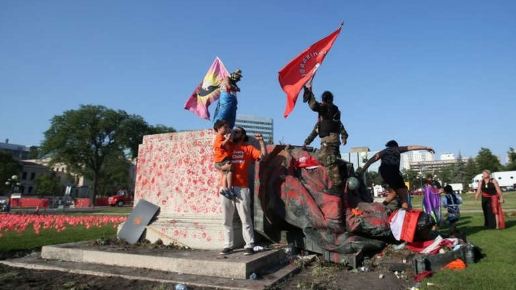 In Canada, they are toppling statues of Queen Victoria and Queen Elizabeth II. A group of protesters gathered at the Manitoba legislature and pulled down the statue of Queen Victoria on Canada Day. A smaller statue of Queen Elizabeth II was also torn down on the premises. The demonstration comes as close to 1,000 unmarked graves of children have been found at the sites of former residential schools. Demonstrators toppled statues of Queen Victoria and Queen Elizabeth II in Winnipeg Thursday as outrage grows in Canada over the discovery of hundreds of unmarked graves of Indigenous children.
Politicians fostered this anti-establishment phase to get rid of Trump. The problem now is that there is no putting this genie back in the bottle. Now they are huddling behind closed doors and will eventually use this as an excuse to suppress the people. It is just getting out of control everywhere. The lockdowns have simply made it all much worse.