RE-Posted Feb 19, 2019 by Martin Armstrong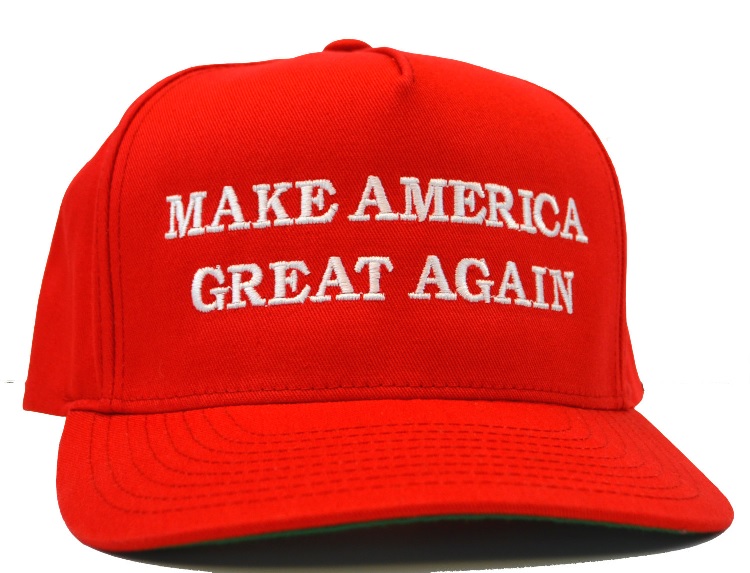 The Make America Great Again was actually a slogan used by Ronald Reagan who became one of the more popular presidents in postwar history. A Tennessee man is in jail after being accused of pulling a gun on a Sam's Club customer Saturday 16th of February because he was wearing one of these hats. The joke used to be if you wanted to commit suicide you just had to confront a cop. Now the cop is being replaced by just a Democrat.
Of course, violence is rising on both sides. The irony is that the left is supposed to be non-violent by their self-proclamation. In South Carolina, a man's car was shot up in a parking lot for having a Trump sticker. In Boston, a woman rammed into a car simply because they had a Trump sticker. In Gig Harbor, a man's car was vandalized also because he had a Trump sticker.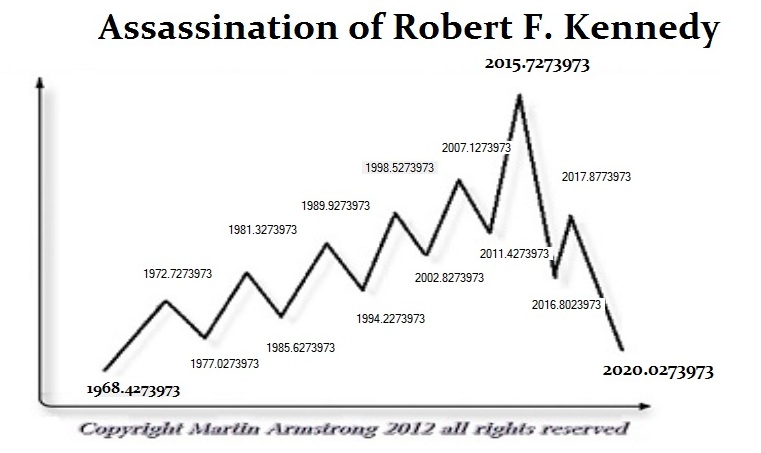 The3 number of incidents are rising dramatically. Unfortunately, our computer is forecast a sharp rise in violence in 2020. On June 5th, 1968, presidential candidate Robert F. Kennedy was mortally wounded shortly after midnight at the Ambassador Hotel in Los Angeles during his presidential campaign. Earlier that evening, the 42-year-old junior senator from New York was declared the winner in the South Dakota and California presidential primaries in the 1968 election. Every aspect we run on our models concerning the 2020 election shows a sharp increase in violence that should rise to what we saw during 1968.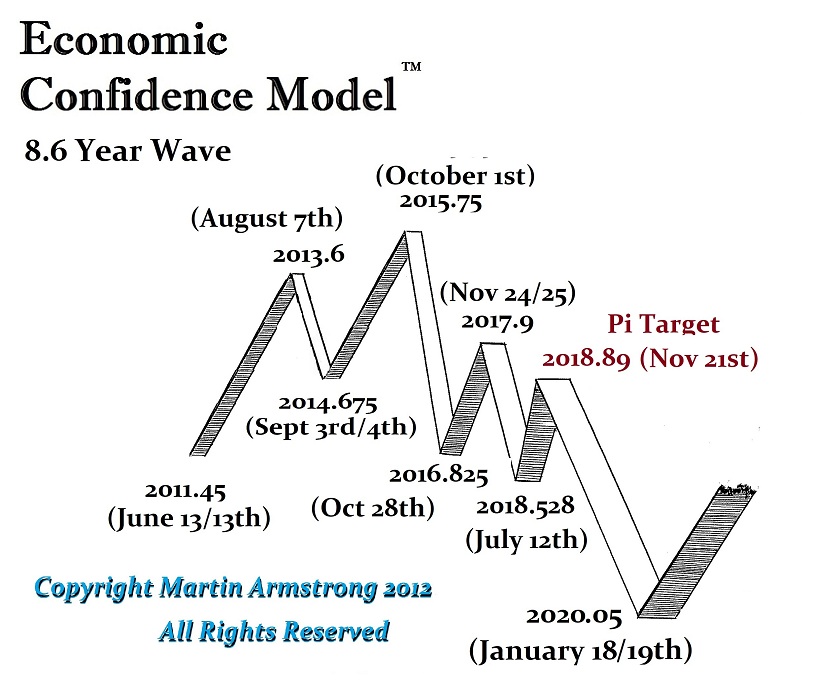 Even the Robert F Kennedy assassination running a 51.6-year wave aligned with the peak in the ECM in 2015. The ECM was 2015.75 and the Kennedy Assassination was due 2015.72 for a peak. No matter what we look at, 2020 is not going to be a quiet year. It appears that all this political obstruction and constant hatred being poured out by the press against Trump will fuel less intelligent people to see him as the Devil incarnate who must be stopped at all costs. This is not going to end nicely and the politics have crossed the line becoming more hate speech with deadly consequences. Neither side will accept the result.
Re-Posted Feb 18, 2019 by Martin Armstrong

QUESTION: Western Civilization will collapse by 2032.
I didn't expect such a strong comment from you.
Specifically, what does this mean?
On the level of ancient Rome? Followed by the dark ages or just mediocrity and the rise of the East?
GVH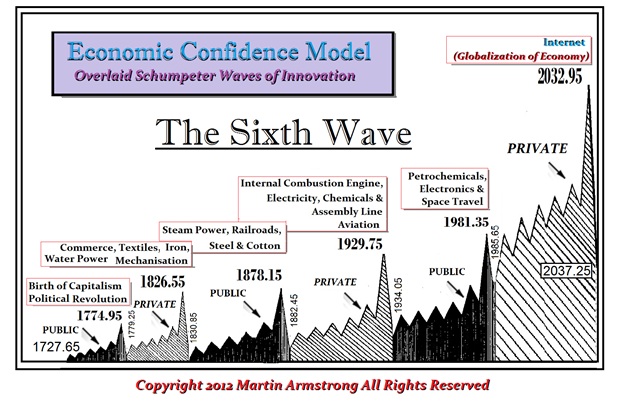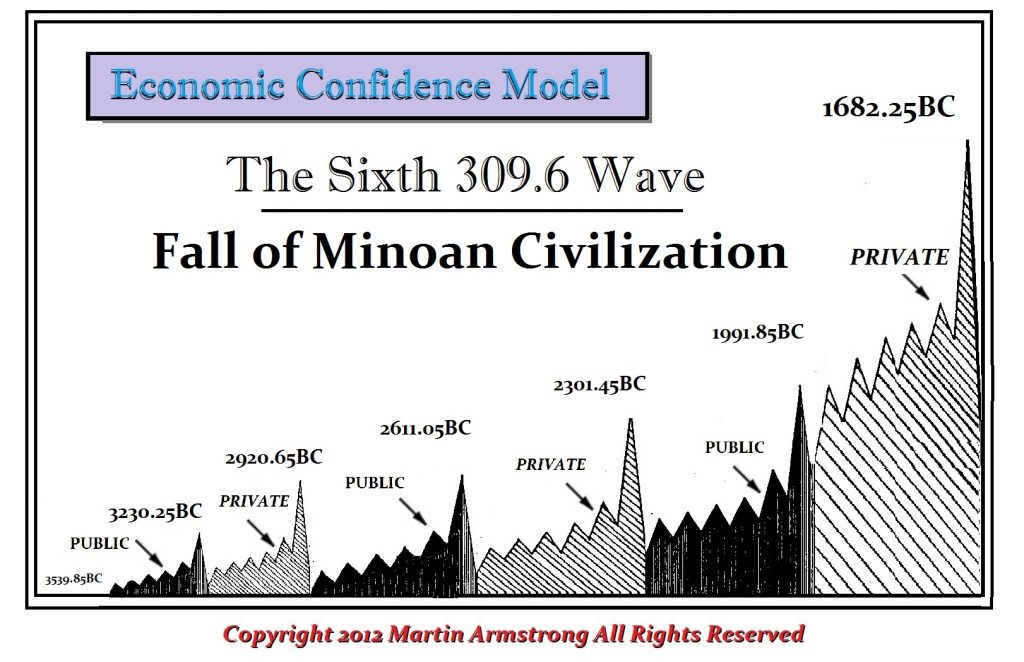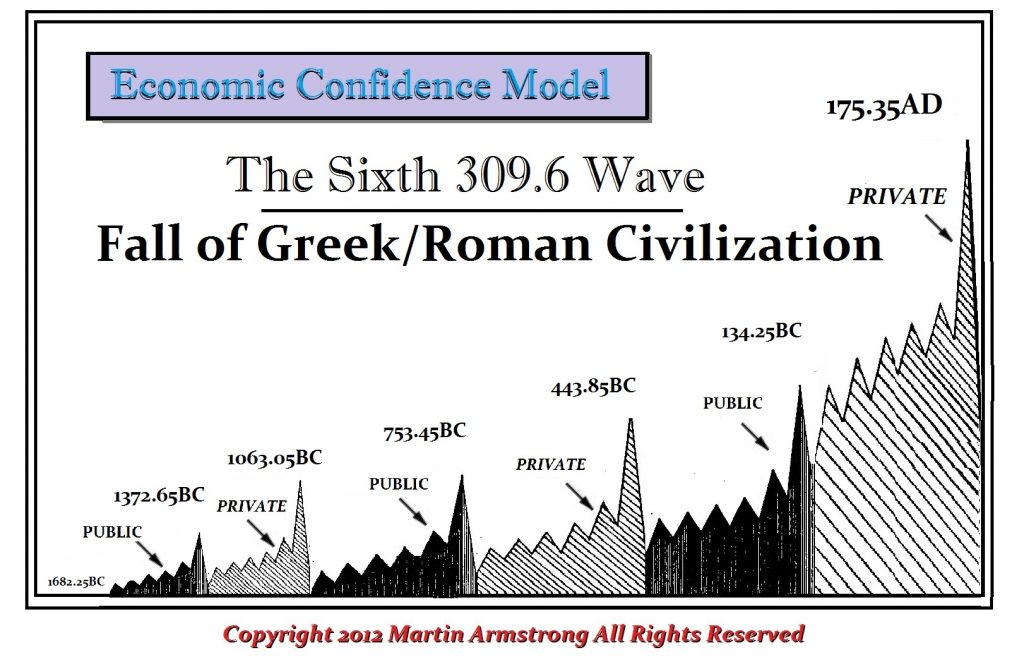 ANSWER: There is a serious risk that after 2032, this will be very much like the fall of Rome. Nonetheless, it is my personal hope that is we understand that risk, we can avert it and move to a new type of wave formation and learn from the past just once. At the lower threshold of risk lies that reality whereby at the very minimum we are looking at the collapse of centralized governments as took place in 1989 with communism. That will result in greater separatist movements and the breakup of national states as we know it today. The USA could break into four main regions. Britain would find it too splits and Scotland, as well as Wales and Ireland, revert back to their origins. The idea of centralized power in Europe will fail. There are even separatist movements in Germany beginning to rise with Bavaria against the north.

The fall of Rome moved back into a separatist trend. Even when Rome fell, that barbarians were imitating Roman traditions. They began to issue coins in the name of the East Emperor just to try to pretend that they were the rulers of the West.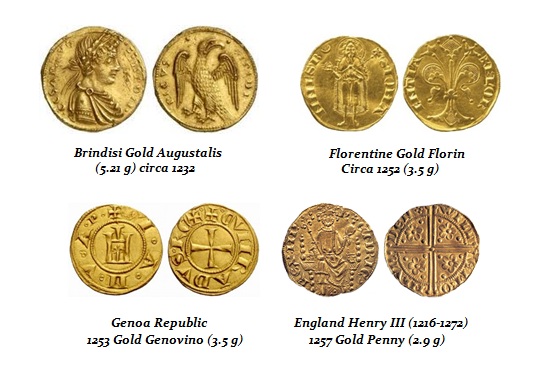 Eventually, gold vanished from the money supply for nearly 600 years. It did not reappear until 1232 with the first coin being issued in Brindisi. This was issued in order to conduct trade with Byzantine and Arabs.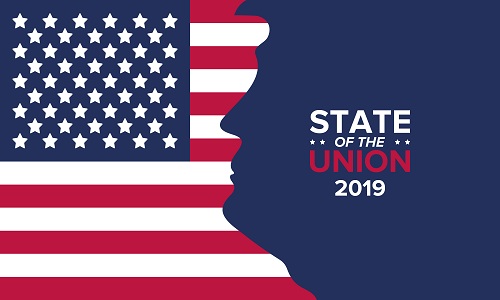 So what the computer is showing is the rise in civil unrest and the risk of war. Just look at what took place at the State of the Union – there is no UNION. This nonsense the Democrats have engaged in has fired the first shot that will be heard around the world. They opposite absolutely everything that Trump says or does and when the political tide switches, the Republicans will do the same to them. It is over. There is no common ground or going back.
This is part of what the computer is forecasting – the collapse of governments as we have known. NEVER before has anyone dared to say that the president was not "their" president. We always accept the winner even when it was someone we voted against. That acceptance no longer exists. Furthermore, we are looking at the collapse of socialism the same as communism. Both were derived from Karl Marx. They are both unsustainable economically. The pension system is collapsing. Just look at Illinois as an example. The state, provincial, and municipal levels of government cannot create money. All they can do is raise taxes to force people to pay state employees that were promises endless money for life.