Re-Posted Sep 18, 2019 by Martin Armstrong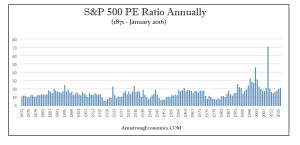 QUESTION: Hi. Martin. I have read your blog for many years and I'm blown away about how much I have learned Question can you help explain how the European stock markets Like the day have risen to over 12000. With European interest rates falling.
SH
ANSWER: Capital is beginning to move already. Europe is closing in and hunting taxes. The chaos of Brexit and punishing Britain rather than addressing the economic problems has really doomed Europe.
As you can see, the peak in the PE ratio took place at the LOW in 2009, not the high. When you enter these periods of uncertainty, interest rates, dividends, and expectations of profits no longer mean anything. The primary objective is to park money in a safe place where you get it back. Banks are questionable with bail-in policies and negative interest rates. Now even gold is being targeted. Where else to go but equities