Armstrong Economics Blog/Corruption Re-Posted Nov 3, 2021 by Martin Armstrong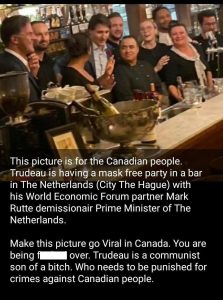 A reader submitted this picture that has gone viral. Canadian Prime Minister Justin Trudeau is cozying up to Netherlands Prime Minister Mark Rutte in a maskless, crowded party without social distancing. It's almost as if they realize their own tyrannical rules do not work.
Rules for thee, but not for me!