Armstrong Economics Blog/North America Re-Posted Dec 18, 2021 by Martin Armstrong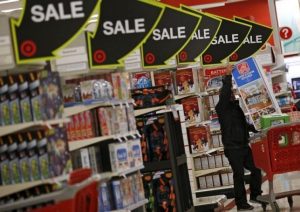 Retailers have their eyes set on Super Saturday, the last Saturday of December to shop before Christmas. Yes, consumerism is still strong enough to require a third shopping-related holiday in December after Black Friday and Cyber Monday. The National Retail Federation (NRF) estimates 148 million consumers will be purchasing gifts this Saturday, down slightly from last year's estimate of 150 million.
The NRF anticipates that the average consumer will spend $997.73 on holiday purchases this year. Consumer behavior has shifted this year due to supply chain crisis fears. Around 180 million Americans purchased gifts during the five-day period from Black Friday to Cyber Monday. Not to be outdone, the NRF believes sales during the week following Christmas will increase between 8.5% and 10.5% to between $843.4 billion and $859 billion. Sales during the overall 2021 holiday season are expected to increase 11.5% from the last holiday season. This is why around two-thirds of America's GDP is consumer spending.