Armstrong Economics Blog/Politics Re-Posted May 24, 2023 by Martin Armstrong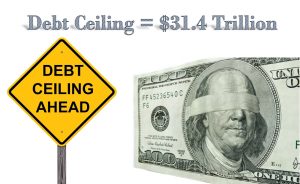 The Republicans and Democrats are refusing to agree on the debt ceiling crisis. The government will be unable to pay its bills and the US will default if an agreement is not reached. Yellen has reached out to every media outlet and large corporation in the US to warn of the "catastrophic" consequences. Of course, they've always managed to increase the limit in the past as America cannot afford to default on its debt obligations. The Democrats insist on spending with no end in sight, while the Republicans are demanding some sort of budget. Biden and McCarthy met on Monday to discuss, but neither side will budge.
Biden said the GOP is taking an "extreme position," but what are they demanding? The GOP wants to set discretionary federal spending at $1.47 trillion for the next fiscal year, with an increase of only 1% in future years. The Congressional Budget Office (CBO) said this would reduce the deficit by $4.8 trillion in the next decade.
The promise Biden made to students must be repealed for the Republicans to accept the ceiling. Biden implemented this policy to buy young votes and had no fiscal plan in place to finance such a lofty goal. The GOP believes student loan payments are being unfairly subsidized by millions of American taxpayers, many who already paid off their own student debt. Biden's plan also does nothing to address continually rising tuition costs. The CBO believes this cut will save taxpayers about $460 billion over the next decade.
Biden's IRS Army must also be defunded. The GOP wants to rescind the $71 billion that the Biden Administration used to hire 87,000 new IRS agents. We never had a need for so many agents in the past, and it is unlikely that they will shakedown $71 billion from average American families.
The Republicans also want to take back unobligated COVID relief money. Six separate bills were passed between 2020 and 2022 and the government is still shelling out money for a pandemic that has ended. The CBO stated this would save the US $30 billion in spending over the next 10 years.
The climate change agenda is costly. Republicans are demanding that Biden eliminate some of the tax breaks his administration provides to green-friendly companies. They're negotiating exactly how to position some of the perks for biofuel. In general, the CBO believes this will save the US $570 billion over the next 10 years.
Increasing America's ability to become energy dependent is crucial. Biden ripped away America's ability to function without energy exports on his first day in office. The country needs coal, natural gas, and oil to function and energy inflation remains a serious problem. The energy bill, labeled HR1 as it is of top importance, would also boost production of lithium, cobalt, nickel, and other minerals.
The Republicans would also like to limit social programs and government handouts. Able-bodied adults under the age of 50, without dependents, must work a minimum of 20 hours a week or they may lose their SNAP and food stamp benefits. Those who are unemployed but on Medicaid and able-bodied will also be required to work a part-time job. The CBO stated 15 million Medicaid recipients would be required to work part-time, and 1.5 million could risk losing federal funding.
Unsurprising since the neocons are on both sides, no one has asked Biden to end the blank checks to Ukraine. America has sent hundreds of millions to Ukraine and is receiving nothing in return. Our own border is overrun and yet we just pledged another $300 million of American taxpayers' money to secure Ukraine's border. The funding for this war will create unprecedented inflation and cripple our economy.