Re-Posted Dec 4, 2019 by Martin Armstrong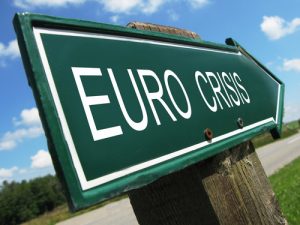 QUESTION: Dear Mr Armstrong,
When will the Euro begin the final drop against the USD?
My second question is property in Italy seems to be rising. Is this what you referred to a currency inflation?
CDP
ANSWER: The decline in the euro since 2008 has been steady, but gradual to some extent. The EU government has been warning banks not to accept short positions and they have done their best to try to hold the currency. The final blow comes ONLY when the general public realizes that there is a problem with all central banks. They cannot support the economy while the fiscal side makes no effort at reform. That is more likely in the 2021-2022 time period.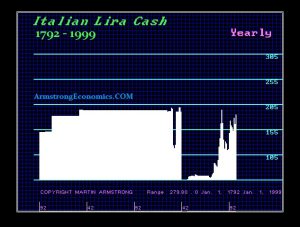 As far as property in Italy is concerned, Italians have a cultural attachment to property. Many have more than one place. They have traditionally sought to park money in property because the Italian lira was in a perpetual decline.
Pension funds on a global scale will become a major crisis. Japan has the worst aging population. However, the same problem exists in Europe and America. This is a long-term issue rather than instantly, right now
Re-Posted Dec 4, 2019 by Martin Armstrong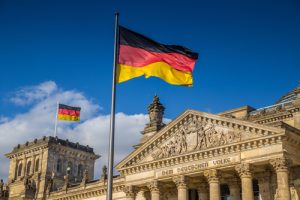 QUESTION:
Hi Martin,
It can not be said enough: thank you for everything that you do.
I have a question that has been bothering me for some time now. I haven't had the time to compose it until now.
You often talk of the fact that Hitler was elected with only 30% of the vote, and was allowed to propagate because of it. This changed the face of Europe and the world.
Was this the same for Merkel? Was she allowed, with only 30% of the vote, to open the borders and so change the face of Europe for decades to come?
If so, then Germany, with all its preoccupation about hyperinflation, has misread history and so should have focused on electoral reform rather than austerity.
Thanks, from a dedicated daily reader,
D
ANSWER: Yes, political reform in Germany is really essential. At the very least, it should adopt the French system where the first round of voting reduces the multi-party factions to two. Then the people have to vote between them. In the case of Germany, they form governments from groups to form coalitions. This means there must be compromises in what the people voted for. It is wrong that those compromises are then decided by politicians rather than the people. The next result, someone with only 30% can change the face of Germany and Europe