Armstrong Economics Blog/Corruption Re-Posted Apr 3, 2023 by Martin Armstrong
Trump said from the beginning that his arrest would blow up in Biden's face. Florida Gov. Ron DeSantis said he would not honor any request to extradite the former president and called the situation "un-American." "The weaponization of the legal system to advance a political agenda turns the rule of law on its head," DeSantis tweeted. News outlets, even those on the left, are bashing the inditement. The Washington Post released an article calling it "a poor test case for prosecuting a former president." American voters seem to agree.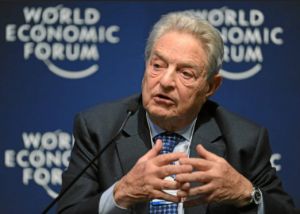 You know you screwed up when even George Soros wants no part of the scandal. The leftist billionaire came out to declare that he is not associated with Alvin Bragg in any way, despite being a donor to the Color of Change PAC that supported Bragg's election. Both DeSantis and Trump accused Soros of supporting Manhattan DA Alvin Bragg. "As for Alvin Bragg, as a matter of fact I did not contribute to his campaign and I don't know him," Soros told the media.
Trump stated: "I believe this Witch-Hunt will backfire massively on Joe Biden. The American people realize exactly what the Radical Left Democrats are doing here. Everyone can see it. So our Movement, and our Party – united and strong – will first defeat Alvin Bragg, and then we will defeat Joe Biden, and we are going to throw every last one of these Crooked Democrats out of office so we can MAKE AMERICA GREAT AGAIN!"
Even the Democrats are now admitting that this is a witch hunt. Rasmussen Reports found that the public was split 49-47 in favor of charging the former president. House Speaker Kevin McCarthy called the charges "an outrageous abuse of power." He also called Braggs a "radical DA who lets violent criminals walk as he pursues political vengeance against President Trump." Rasmussen also found that 46% of Democrats agree that what is happening is "an outrageous abuse of power," and 55% of Independent voters also agreed. A poll by Breitbart News found that 59% of poll respondents see the charges as "politically motivated," and 53% said it was "stretching a weak case."
Could these charges actually cause the public to feel sympathy for Donald Trump? Republicans are standing strong behind him. Those in the middle are leaning to the right on this situation. The left wanted Trump gone, but not in such an overtly corrupt manner. Beating the charges would be a win for Trump and a nod to his promise to fight the establishment. This has become additional free publicity for Trump as it is hard to deny that the US government is already attempting to interfere in the 2024 presidential election.