Armstrong Economics Blog/Russia Re-Posted Feb 9, 2023 by Martin Armstrong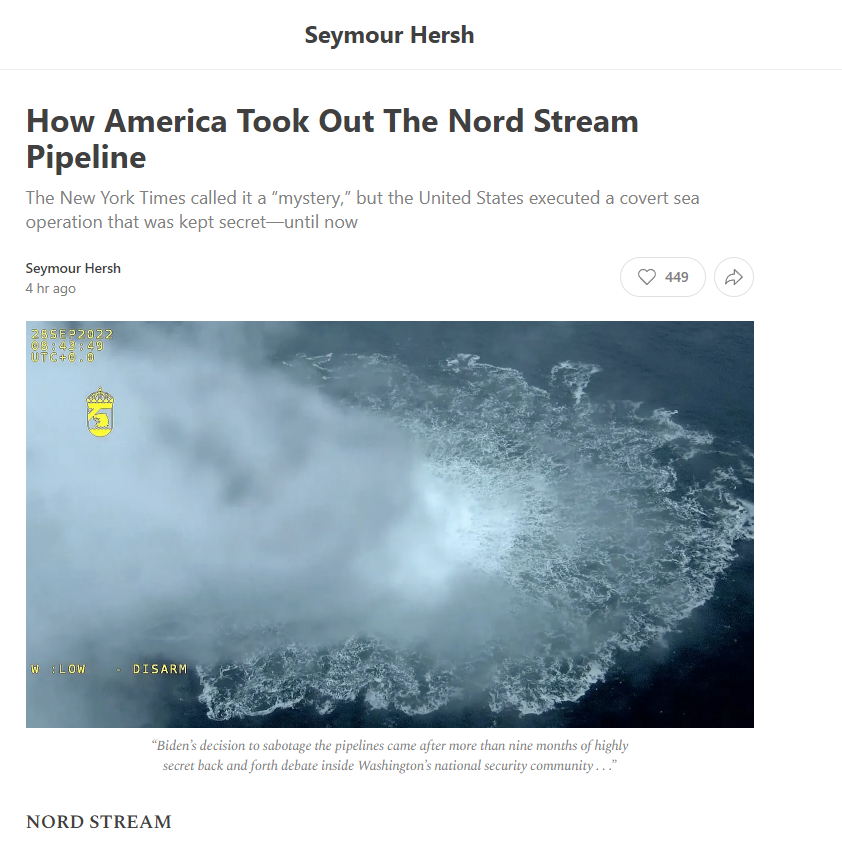 Seymour Hersch won a Pulitzer Prize for his reporting on the My Lai massacre in Vietnam. He is one of a dying breed of independent journalists. He has revealed that the United States destroyed Nord Stream Pipeline and this was all part of the Climate Change War where the Neocons are now supporting Nazis to exterminate Russia once and for all while they ask China to please wait quietly in line patiently for their turn to be destroyed. His in-depth article includes:
"Last June, the Navy divers, operating under the cover of a widely publicized mid-summer NATO exercise known as BALTOPS 22, planted the remotely triggered explosives that, three months later, destroyed three of the four Nord Stream pipelines, according to a source with direct knowledge of the operational planning.
Two of the pipelines, which were known collectively as Nord Stream 1, had been providing Germany and much of Western Europe with cheap Russian natural gas for more than a decade. A second pair of pipelines, called Nord Stream 2, had been built but were not yet operational. Now, with Russian troops massing on the Ukrainian border and the bloodiest war in Europe since 1945 looming, President Joseph Biden saw the pipelines as a vehicle for Vladimir Putin to weaponize natural gas for his political and territorial ambitions."